It's a full house for Arkell's & Cask Marque
10/04/2017
Swindon brewery celebrating 100% accreditation for beer standard
Since 1997 Cask Marque has been ensuring that cask ale in pubs is served in perfect condition. Each year its 45 qualified assessors make over 20,000 visits to pubs in England, Scotland, Wales, Europe and even the U.S to check the temperature, appearance, aroma and taste of Britain's favourite drink. The Cask Marque scheme is operated by the Cask Marque Trust. Pubs that join the scheme are visited unannounced by an independent assessor at least twice a year. In the first year, they are visited twice in the first three months and in subsequent years they are visited once in the summer and once in the winter.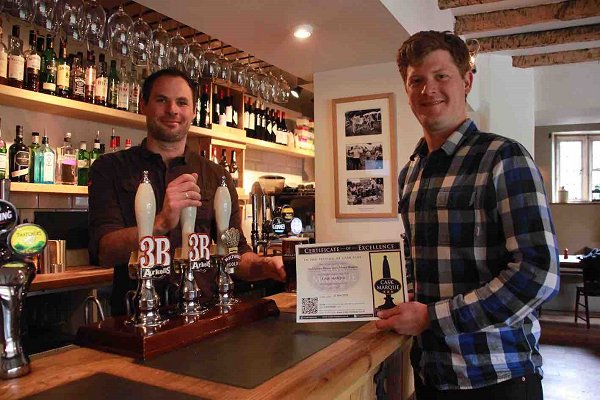 The assessor checks all cask ales on sale for temperature, appearance, aroma and taste. Roger Clayson, National Account Manager at Cask Marque, said: "For the pub to pass, all the beers must reach the required standard and it then receives a plaque, framed certificate and merchandising material to inform its customers of the award and their rights. This is a great achievement by Arkell's and each of its individual landlords and sets the standard for the pub estates of other breweries."
One Arkell's pub was so good that Tim O'Rourke, Cask Marque assessor for Gloucestershire thinks it sets the standard for the whole country.
The Mason's Arms at Meysey Hampton, near Cirencester (pic. above) particularly impressed him. "It is always a pleasure to come across a 'Top League' pub and pub manager who took real pride in not just the quality of the beers available, but the entire customer experience", said Tim. "The beers at The Masons Arms at Meysey Hampton are well kept and carefully presented.
"They represent an excellent example of what the trade needs to aspire to, achieve and maintain to face a challenging future with confidence." Arkell's has made a significant investment in cellar management training over the last three years, and it's paid off.
Head brewer, Alex Arkell, said: "This is a team effort between us at the brewery, our landlords to make sure that every pint they serve to customers is top quality and the Cask Marque team to give our landlords the final seal of approval. We're thrilled that we're leading the way."
10000 pubs in the UK have the Cask Marque plaque for the quality of their beer and the plaque is recognised by 56% of Cask Ale drinkers. Cask Marque pubs can be easily found using their free the Caskfinder App. 25000 consumers have joined the World's Biggest Ale Trail. Find further details by visiting the Cask Marque website on www.cask-marque co.uk