The Plane Trust Behind Mustang Black
01/02/2017
Arkell's new house beer

Arkell's Brewery have kicked off 2017 by launching its latest beer, Mustang Black: a gloriously dark stout with layers of delicious flavours to warm up the coldest fingers and toes
It is named after the wartime experiences of the head brewer's grandfather, Peter Arkell, who flew Hurricanes, Lysanders and Mustangs during the Second World War. It continues the brewery's tribute to Peter and his time in the RAF by naming beers after his achievements.
Moonlight, launched in 2003, celebrated Peter Arkell's missions flying low level sorties in Lysanders over France in 1943. Hurricane, launched in 2014, uses Pilot hops in the recipe.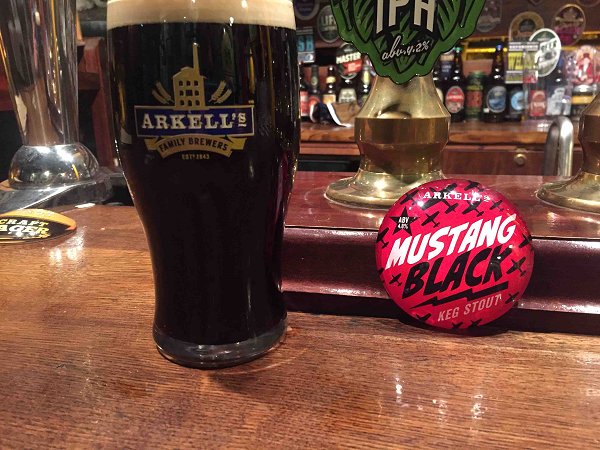 Although the Mustangs were designed and built in America as long-range, single-seat fighter-bombers, they were initially developed for the RAF, which used them for tactical reconnaissance and ground-attack duties. The last RAF Mustangs were retired in 1947.
Arkell's head brewer, Alex Arkell, said: "Part of my pleasure in brewing new beers is being able to create the recipe around a true story. Moonlight, Hurricane and now Mustang Black celebrate true heroism, not only by my grandfather Peter, but of all the brave pilots who played such a major part in World War Two.
"Mustang Black is a blend of six different malt varieties to create a smooth and creamy taste and it was a pleasure to come up with a rich, dark stout which I can imagine my grandfather and his colleagues might tuck into after returning safely after daring missions over Europe." Mustang Black (ABV 4.8%) will now be available as a keg stout beer at all Arkell's participating pubs.